EnglishEssays Review
When you enter the website you see a good-looking nice design with all the main offers which may be interesting for a student. At first sight, it may look like something convincing to a purchase. You can see sound offers accompanied by their characteristics, exact prices for a page, good comments and discounts for the first order. All of these factors make quite a selling affect. Unfortunately, when you begin to discover this all in details, it turns out to be not that perfect. Let's see the EnglishEssays.net review in details.
General Impression
I cannot say that this is the most popular website on the Internet. I have never heard about it before I was recommended to look it through. I wanted to know more about repuatation of the service. Unfortunately they do not have any active life in social networks. There are no links to Facebook or other pages. You can only press "like"-button. So you can only search for other comments on aside web-pages.
What may confuse clients is the name of the site:EnglishEssays.net. People can think that the service writes only essays and others types of work are unavailable. Actually, this is what I thought at first sight and I think that I was not the only one. In fact they write dozens of other works, including dissertations, research papers, and many others. You can even order just a part of the work, at least it concerns dissertations. The levels of writing are also different: from high school till Ph.D. The service can also provide the services of editing and formatting.
As to the guarantees, the company promises original custom writing without any mistakes. What is good is that this service gives samples of their works. There are 12 different kinds of work you can easily download and look through.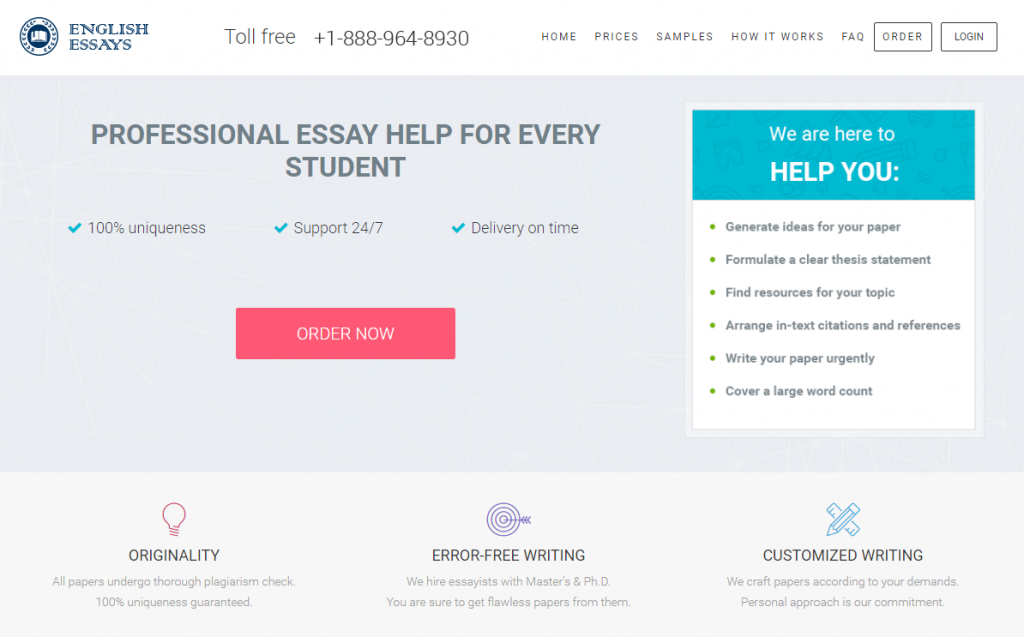 What I liked about their suggestion is that you can choose a writer your own. On the first page you will see brief information about their writers and the areas they chose for writing. You should mind that different writers specialize in a whole range of various topics. They are not specialists in Sociology only, or IT only. For example, one author indicated that he deals with Business, Management and Computer Science. Another indicated that he deals with Sociology, HR, Management and Psychology. Have you ever seen people with such a great many of specializations? Of course, it is merely impossible. It means that these writers are not professional specialists. They just rewrite the texts of the other people. In this case I don't really understand how they can write a written paper which must be completely unique, a dissertation, for example.
Price Level
The prices are divided according to the period of writing and the level of complexity. The deadlines vary from 3 to 20 days. The levels of complexity are divided into High School, College, Master, Ph.D. and Undergraduate. Although I don't really understand what the word "Undergraduate" means in this range. Who knows the difference between College and Undergraduate, please, inform me.
As a result we can see the following situation:
• the more time the writer has for working, the cheaper the price is,
• the higher education level is needed, the higher the price is.
The lowest price I've found was $11,30. It was a school level. The highest price was $44,95. It was the level of Ph.D.
Trial order
As general appearance of the website was rather nice, I decided to make a trial order. I ordered a small essay. Unfortunately, the paper I received was written not in the best way. I didn't manage to find any concrete ideas in the text. It was something completely plain and would hardly suit even for a High School level.
What really surprised me is that I didn't receive any revisions in reply to my complaints. Managers of their customer support just informed me that I received the essay in accordance with my requirements. They didn't bother to study the problem in details.
Conclusion
What I liked about this service:
1. User-friendly design.
2. Convincing offers.
3. Fair prices in case if the writing is good.
What I disliked:
1. Low quality of customer support.
2. Writers are not professionals in certain areas, they just do paraphrasing.
3. There is no direct communication with the writer.
Good design and thought-out construction of EnglishEssays makes me hope that they are able to write better papers than I received. But I cannot recommend them without any positive experience. If you ever addressed their service and received good writing and good grades, please, make leae a comment.