EssayShark Review
My first impression about Essay Shark was quite good. I thought that I have found something really worthy.  It has somewhat unusual system of work. First you place your order, then you choose your writer and only after that you approve the resultsand finally make your payment. It is a good principle but it turned out to be much more difficult when you study the process in details. Let's read the EssayShark review and see what is wrong with such system.
General Impression
When I started to choose the writer it took me ages to interview the most appropriate ones. I was ready to quit choosing and change the service. I think they must have more detailed description of the writers. When you choose them, you can see their topics and their major achievements but there is no description on how they work, what approach they use.  Dozens of the testimonials below the profile of each writer don't say a lot about them. The writers even don't upload their real photos. They upload only some pictures, cartoons or something else. If this writers are well-experienced professionals, why don't they upload their own photos?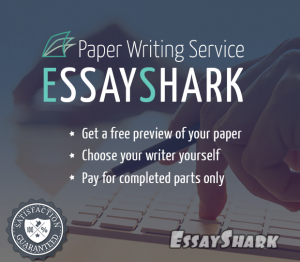 And this is not the only problem connected to the choosing of writers. When you order your writing and have certain problems with your writer, the company is not responsible.  It was you who chose the writer so all the responsibility is up to you.
As to the services the company provides, you can find all the standard kinds of papers. You will also have such standard guarantees as money return and privacy. The quality of writing is not guaranteed in any of the menu points.
Price Level
The bidding system of choosing the writer also affects the price level. Since you choose the writer by such system you can choose the most appropriate one for you according to his knowledge, experience and his prices too. When I placed an order I had bits which varied from $9 to $22. This was quite chip, if we compare it with other writing services.
Trial order
After all the studies I just had to make my trial order and see how this all ends. It was an essay of medium difficulty. Unfortunately after I spent so much time choosing my writer, he wrote the paper of a really low quality. It would be ok for a C-student, not better. I asked for amendments as I hoped it was possible to correct it. My writer didn't refuse, but he made so few corrections it would not help the situation.
I couldn't even address any customer service. All the system is built on your cooperation with the writer. And if he prefers staying silent you will not have any other choice except waiting for any news from him.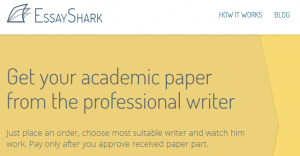 Conclusion
They have equal number of pros and cons.
Pros:
They have mobile version.
Payment is hold only after confirmation of quality, when your paper is ready.
Cons:
They have difficult system of choice which takes lots of time.
There is no customer service.
I don't know where I should place the problem with a writer. The idea was not bad but it needs to be elaborated better. If EssayShark wanted they would improve it. But if they don't, it must be their policy. I don't know, maybe there are some writers who can write much better, maybe I was simply wrong when I chose my writer. But who can tell how to choose them correctly? I wouldn't recommend this service until they change and improve their system of bidding.