Ultius Review
Below is the Ultius.com review. I cannot say that this is the best or the worst service I have ever used. Let's say it's in the middle class.
General Impression
Design of the website is really great. I don't really think that this is the most important feature of the writing service but still it's impressive.
There have been some testimonials on the page and they seemed to be unnatural. Frankly speaking, I don't like when such services publish only positive comments. Any service can have certain problems and there is no reason to hide it. This will be even more attractive for the clients.
Ultius service suggests writing essay, dissertation, research paper, thesis and assistance in business writing. You can also choose some more types of writing in the general list of services. Choosing the type of work you order, be sure that this writing service will manage. All the most difficult topics or the most difficult subjects should be ordered to more reliable writig services.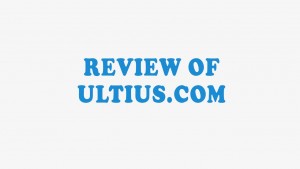 In relation to the guarantees the writing service assured completely original papers and only due delivery. The writers were also supposed to be the best of the best.
I was impressed with the blog the service has. It contains lots of information many students would think to be precious. Unfortunately, as my trial order showed later on, all this articles have nothing to do with the text the service wrote for me.
The same concerns the samples of their papers. They also have been better than the work I received. I really recommend you to look them through before placing an order. The samples are made better than they write on a daily basis. Maybe you will understand that you will manage your own.
Price Level
The limits of their prices – this was a real surprise for me. The cheapest price per one page was $18 and the most expensive one was $80. When you see such prices you suppose that quality is simply terrific. But not this time. You order a simple resume for $170 and you receive a middle quality document which is really far from the perfect one.
Trial order
The paper I received as a result of my order was one of the biggest disappointments I have ever had. Maybe it could be fine for those students who don't care about their grades but it was far from fine as for me. I think that even a C- or D-student would find what to correct before submitting it. The service is supposed to work only with native speakers but I simply cannot trust it. Even if I don't pay attention to grammar mistakes which can be corrected by the editor, what about the main ideas of the essay?

Conclusion
In conclusion I would say that they have:
Great website design.
Interesting blog.
Samples of their work.
As to minuses I would underline:    
Poor quality of writing.
Extremely high prices.
I cannot say that ultius.com is the worst writing service I have ever used. But mind that you can order much better paper in other services for the same or smaller amount of money.  I wouldn't say so if I received a good writing. But their prices has nothing to do with the final quality. If you have ever had any other experience, please, leave your comment. Maybe I was the only unlucky person in their list of clients.